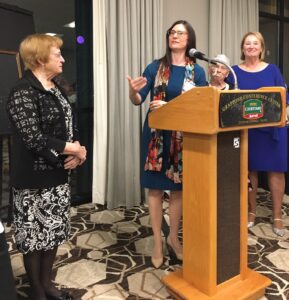 On Friday, April 28, 2023, the General Federation of Women's Clubs-NH (GFWC-NH) held their Fourth Annual Evening of Unity Awards Banquet at the Grappone Conference Center in Concord, NH. Kate Baker Demers, Executive Director of Children's Scholarship Fund NH, was honored to be among the six award recipients, all nominated by chapter leaders across the state.
Linda Twombly of the Nashua chapter of the GFWC-NH (the Nashaway Woman's Club) introduced Kate as their nominee with the words, "I have known Kate since 2010 when my husband was a State Representative and I have fallen in love with this woman for what she has done for children's education."
Click here to view Linda's full remarks and Kate's acceptance speech.
CSF NH wishes to express our grateful appreciation for the generosity of the GFWC-NH and all they do to support children, families, and those in need across the Granite State.