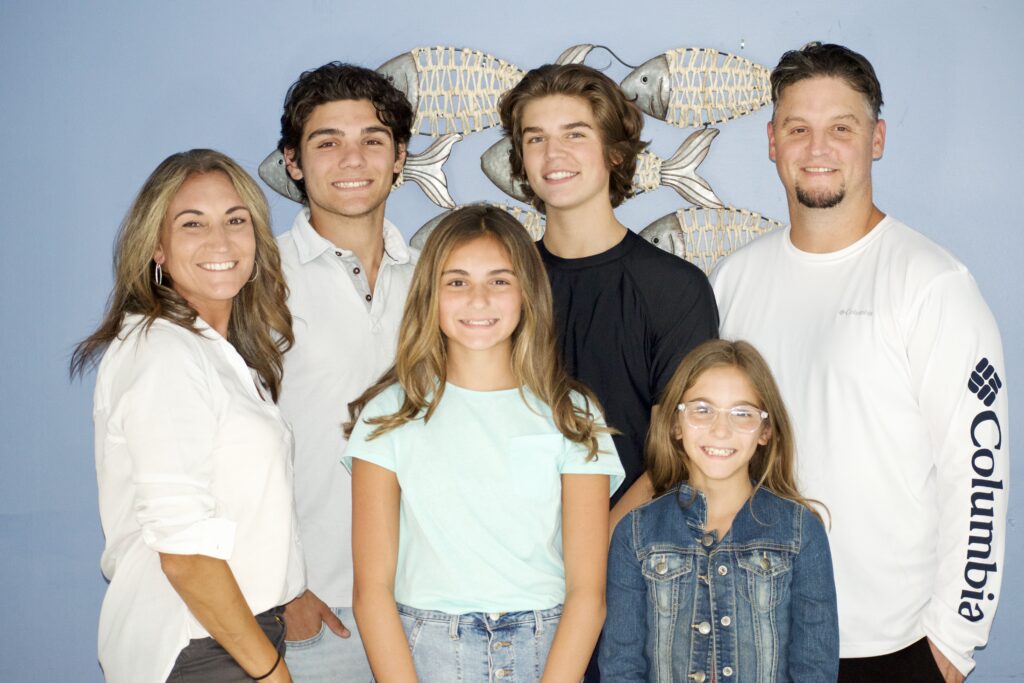 When Jason and Dené Ludwig first moved to New Hampshire from Massachusetts in 2018, they researched scholarships for homeschooling their four children (ranging at the time from Kindergarten to seventh grade). On a minister's salary – Jason serves as Northeast Director of Straight Ahead Ministries – private schools weren't financially attainable and homeschool costs added up quickly. They had decided early on that they wanted their children's academic experiences to match their religious beliefs. They never dreamed private school could ever be an option.
Dené discovered Children's Scholarship Fund NH (CSF) while familiarizing herself with New Hampshire State laws on homeschooling. She and Jason were delighted to find out that a CSF scholarship would help with the cost of homeschooling and, combined with Portsmouth Christian Academy's (PCA) variable tuition program, would put private school within reach for their oldest, who was going into seventh grade at the time.
The Ludwigs are grateful for what CSF resources have enabled them to access over the years, including homeschool curriculum, technology (e.g. laptops), private school tuition, uniforms, school lunches, music lessons, tutoring, testing, and even driving school.
Now, between the Education Freedom Account program (implemented in 2021) and CSF scholarships, the Ludwigs are able to send all four of their children to PCA. Finding an education environment that aligned with their beliefs and supported the different learning needs of their children was critical for them, Dené shared. "Being able to place my children in a school environment that I feel is spiritually, mentally, emotionally, and physically safe… has allowed us to know that our children are getting an education without compromising our morals and religious beliefs. We have a tailored education for two of the children. One has an IEP, and the other needs more of a rigorous challenge. The other two fall in the average spectrum and school has challenged them to go beyond their average. PCA has challenged them to see what they're capable of and beyond."
Jason and Dené are thrilled with their decision to send their children to PCA, having the security of knowing their children are exactly where they need to be in an academic setting. Dené shared, "The culture at PCA is instilling in them who they can be and pushing them beyond their comfort zones." Their 10th grader, who receives tutoring and individualized attention, has greatly increased his NWEA standardized test scores. Their sixth grader has been able to take violin lessons. She learned the instrument so fast that it caught her teacher's attention and won her two music awards this year. Although she was invited to go on an international trip with her music class and perform in Ireland, it just wasn't financially possible. However, the compliment alone had a huge impact on her inner confidence. Their youngest was behind in reading until PCA worked with her in the Mosaic program for a few months. She has since catapulted above the average.
And their oldest has had a great experience in terms of leadership development roles, challenging him to go beyond his average. He is thriving academically and athletically. This year he won the Most Valuable Player award for his participation in the 21st Annual Granite State Conference Tournament and the hard work he contributed to PCA's JV Basketball league. He also just served on a Missions Trip to Puerto Rico with fellow classmates – a trip that not only impacted the lives of an underprivileged community but also impacted the lives of the students serving them.
In looking to the future, the Ludwigs have a vision for their children. "We didn't have opportunities growing up, and plans for our futures, unfortunately, weren't emphasized. Thankfully, God had a different plan. We hope our children continue to have opportunities even when they fall outside of our financial abilities. We hope they will attend college and strive for new heights. More than that we want them to know their worth, never to give up, and never forget the generosity those around them have shown. Many of whom they have never met. We hope they will pay it forward in the future and carry the torch of impacting the lives of underprivileged youth, knowing firsthand the difference it can make."