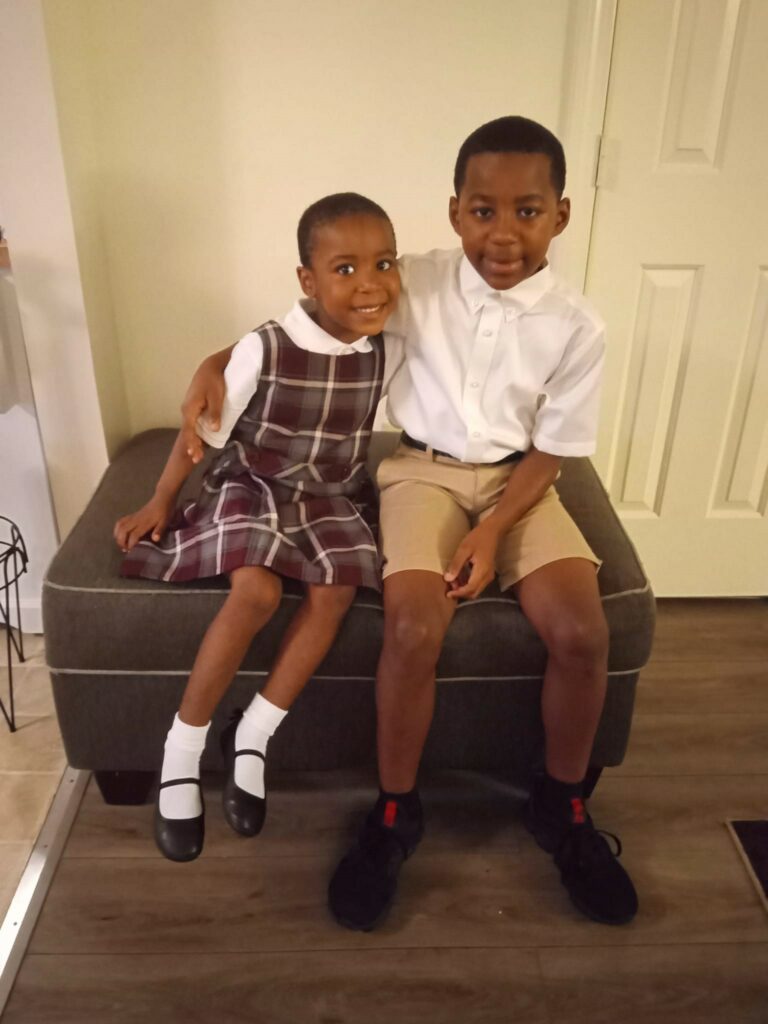 Entrepreneur, truck-driver, and single father of two elementary school age children, Sheunesu Moyo is currently finishing off a degree in business management at Granite State. "I like the kids to see that education is important… My hope is that they will see themselves through college and graduate degrees. It's important, even if you're not going to follow a career in that setting. It helps to be well-rounded member of community."
Sheunesu's son Zamani started his K-12 education in their local public school. "My son is a talented student, but he had some issues in the public school system and got moved around a lot because they couldn't accommodate his level."
Sheunesu realized he needed to make a change to ensure that both his children would thrive in school. As he sought alternative education options that could accommodate and challenge Zamani at his learning level, Moyo was referred to Children's Scholarship Fund NH through Southern New Hampshire Services.
The two Moyo children – Zamani and his younger sister Thandiwe – now both attend Cardinal Lacroix Academy. Sheunesu was drawn toward it because he had gone to a Catholic school and "It checked all the boxes."
Between the Education Tax Credit (ETC) scholarships and Education Freedom Accounts (EFA), Sheunesu tells us that he is now able to exercise his "Freedom to choose how I educate my kids, freedom to choose where I educate them at. It's allowed me to align my kids with an education that I was exposed to when I grew up, but would not be available if not for Children's Scholarship Fund."
The funds have primarily covered tuition at Cardinal Lacroix, but have also helped out with uniforms, educational materials, and a computer for Zamani to use for math and reading after school.
Zamani is now in fifth grade and thriving. Cardinal Lacroix can accommodate his level of learning and keep him focused while giving him the attention he needs. He has been able to maintain good grades, show improvement in social skills, and has been part of the school basketball team for two years.
Kindergartner Thandiwe likes to learn and truly loves her school experience so far. In fact, she's not happy when she is not in school, Sheunesu tells us. "She's always laughing and smiling, and she always has an opinion!"
"I'm grateful that these programs exist. Being up in NH, there's not a lot available compared to bigger cities like Boston that have more programs that are targeted to lower income families. Having programs like this definitely helps bridge some of the gaps that exist in the education systems."
All New Hampshire children, regardless of family income or neighborhood, should have the education that is the right fit for them. Partner with us in this mission, and receive the highest tax credit available in NH for your donation.